All programs can now be delivered in a virtual format.
Energize and inspire your teams for maximum performance
Going All In
Whether your team consists of 10 or 500 members, there are always opportunities to take your Team to new heights. Utilizing experiential, interactive exercises and challenges, we will tailor a program unique to the needs of your Team as well as your current industry.
The results? Expect your Teams to leave feeling positive, inspired and motivated with a 'go all in' outlook to life and business.
We provide everything from small, intimate workshops to large-scale group activities.
Just as cultures vary from workplace to workplace, so do our program styles.  We do a wide spectrum of training from core competencies like 5 Dysfunctions of a Team and High Performing Teams  or Dealing with conflict – to change making creative thinking or social responsibility programs like Building the World's Largest Domino Track out of Mac and Cheese Boxes that combine creativity and fun with outstanding results.  
No matter what your style, we have a program that will suit you perfectly.  If you do not see exactly what you want here, or you have your own "Out of the Box' idea on how you would like to build your team, be sure to email Laurie directly and GO ALL IN for your team today.
Our entire staff enjoyed the Knock Down Hunger team building workshop developed and coordinated by Laurie Flasko & Associates.  As a manager, I didn't realize how creative and brilliant my team is, using our structure as a metaphor for a typical day at work.  In a non-competitive environment, Laurie's direction and encouragement ensured the entire staff contributed.  People were listened to during the process.  It was so nice to see staff members who are usually quiet speak up and to witness some of the leaders on our team step back and let others make decisions.   We accomplished so much in very little time.  I felt as if we were playing instead of working.
Diane Corkum, Executive Director,  Project SHARE
We don't develop your uniquely customized training until we've done our homework.
And that means, we do an in-depth assessment of your current business issues and organizational needs, then carefully select the tools, strategies and information that will yield the best results.
All materials, including case studies and examples, are reflective of your organization. Activities range from facilitated discussions to group activities to exciting challenges that address a variety of learning styles.
Our presentations are fun and interactive, ensuring a comfortable learning and sharing environment for the participants.
Below are some of our most popular programs. Click on each title to view the details.
Learn how to use the proven model for team development. Improve in each of the five key fundamentals: trust, conflict, commitment, accountability and results. This practical process will provide your team with information and strategies they can use immediately and apply on an ongoing basis.
All great relationships require productive conflict to grow. Unfortunately, conflict is often avoided because it has been seen or used in an ineffective, damaging, and unproductive manner. In this session you will learn how to analyze a conflict to decide which style is best for a given situation and ensure you can affect the outcome in positive ways.
Evidence suggests that high emotional intelligence (EI) is a stronger predictor of success then IQ and technical abilities. You will learn strategies to work effectively with others and build essential collaborative relationships resulting in increased productivity, effectiveness and business results.
Utilizing personality theory, your team will gain a deeper understanding into their own strengths, characteristics, and values. Elevate effectiveness, improve morale, yield greater collaboration and results as your teams learn to communicate more effectively themselves and discover preferences for interacting with each other.
Turn your organization into a high-performance team! Participation is essential in this highly-interactive and fun workshop. Your team will yield higher productivity, identify and leverage strengths, build trust, and improve their collaborative efforts. Team members will learn about their own personality types as well as their teams through interactive exercises, discussion and self-reflection.
In this interactive session, teams will work together to identify team strengths, overcome challenges and discuss ways to work together more effectively. The outcomes include increased trust, collaboration, solution focused problem solving, and healthy conflict. Experiential learning and debriefs will incorporate challenges and fun to drive home concepts. This program will be customized for your team.
In every facet of our lives, opportunities exist to improve based on self-awareness and to strive for greater personal effectiveness. Your team members will develop leadership skills and push personal boundaries; build on their strengths, passions and determination; and take a proactive approach to overcoming obstacles. Your team will develop plans for success and resiliency strategies to persevere, which all contribute to a greater sense of personal confidence and optimize their performance.
Human Behaviour is predictable. Using the DISC Model teams can learn to work together leveraging each other's strengths. This workshop will be customized to include such topics as communication, teamwork, customer service, leadership etc.
Are you afraid that your presentations are dull and boring?
Do you want to have more confidence speaking in front of a group?
Do you gulp with fear?
In this highly interactive and experiential session, Laurie shares her best tips and tools to make your presentation fun, memorable, and effective.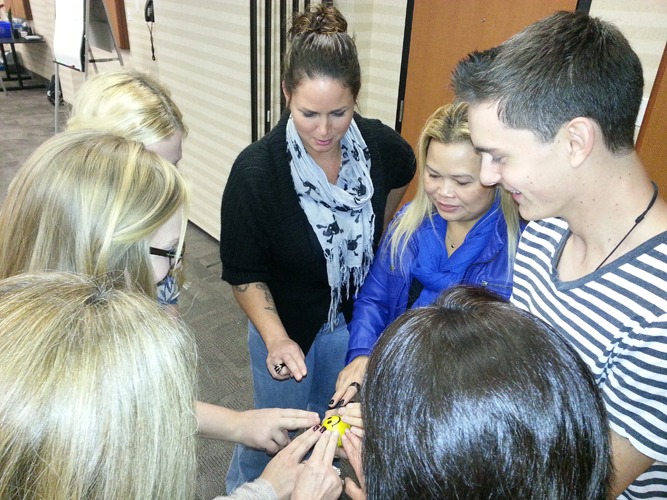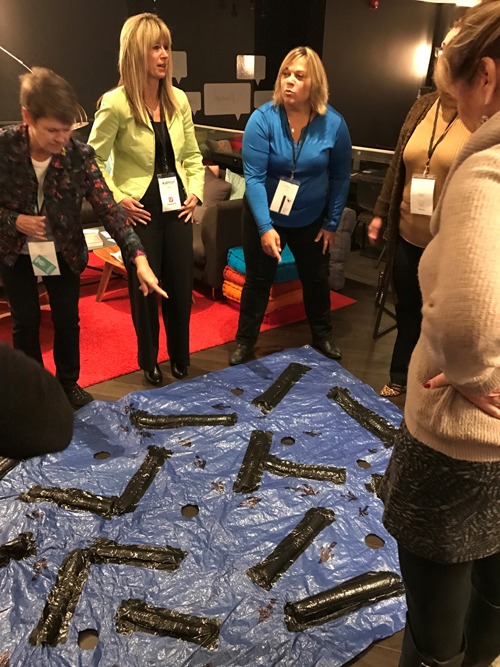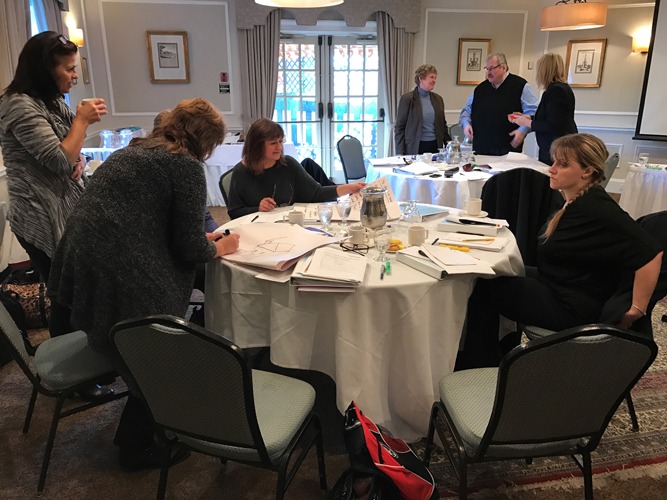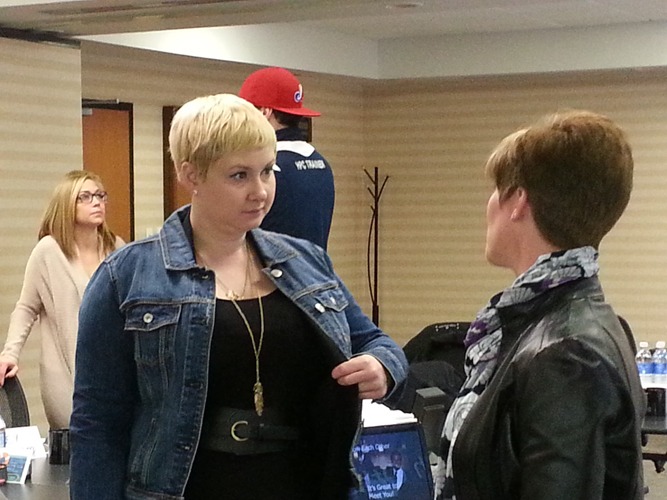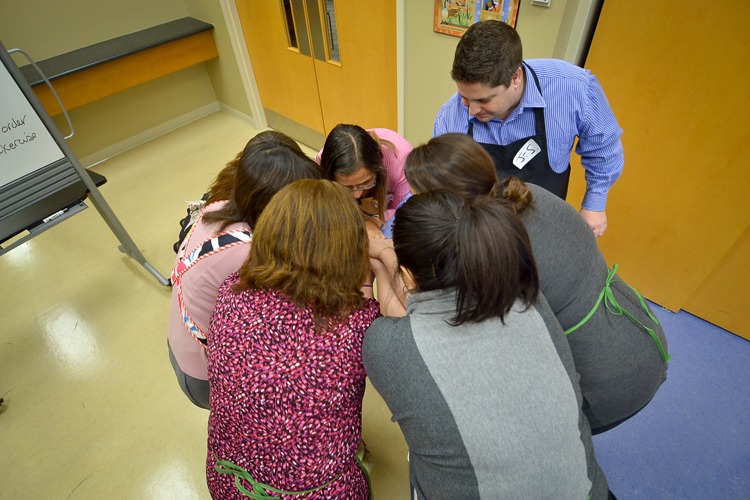 Get to know each other – learn skills in a fun skills based way.
Sometimes learning and skill development can be incorporated in the most creative ways. These customized trainings incorporate fun, laughter and real-world skills that make an impact.
We will create an experience for your team!
Board Room to Camp Fire
Celebrating Strengths
Escape Room Creativity Challenge
Hamburger Challenge
Outdoor Challenges
Take the Cake
World's Longest Domino Track
1000 Acts of Kindness
No matter what your style, we have a program that will suit you perfectly.  If you do not see exactly what you want here, or you have your own "Out of the Box' idea on how you would like to build your team, be sure to email Laurie directly and GO ALL IN for your team today.
Encourage your teams to be their best. To find out more about our unique team building events, get in touch today by emailing lflasko@laurieflasko.com or call us at 905-357-2345.
"The weekend team building session was an amazing experience. The obvious benefits of creating a more functional team notwithstanding, it was also a very effective exercise offering critical insights into yourself and your colleagues. I came away with a much better understanding of how a team should function and as importantly, what motivates individual team members. A very enlightening weekend!"
Geoff Goodyear, President/CEO, Universal Helicopters Newfoundland and Labrador LP
"The pandemic had negatively affected our team's ability to connect and communicate with each other. When Laurie came in to deliver her teambuilding sessions it was like a ray of sunshine. She put together very thought-out sessions where she honoured the things we lost, and gave us strategies for moving forward. She has great energy and is very skilled at what she does. I highly recommend Laurie as a teambuilding coach. Our team has improved our communication, and we are already seeing an increase in productivity which is a direct result of the teambuilding sessions we had with her. Thank you, Laurie!"
Stacy Terry, Executive Director
Distress Centre Niagara