"The designation of CSP is one I have worked very hard to attain, and I am so proud to be included in this elite group of talented speakers who are changing the world, one story at a time." Laurie
This is the only earned designation for professional speakers.
About 12 percent of the 5,000 + speakers worldwide, who belong to the 13 member associations of the Global Speakers Federation currently hold this professional designation. These speakers must meet rigorous requirements for a number of fee-paid presentations, number of clients, continuing education credits and consecutive years of business experience. This designation is granted under the auspices of the Global Speakers Federation (5,000+ members in 27 countries).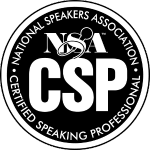 Speakers who have earned their CSP are recognized as one of the best in their field.
The CSP designation is earned through demonstrating competence in professional standards:
Platform skills
Business management
Education
Association